Shabby Chic Sliced Wooden Beads Wreath DIY
I am more then excited to share this project with you. As I was scrolling through Amazon the other day I found sliced wooden beads … I love wooden beads, I love everything about them. They are simply perfect tiny accent in any project. I have made tassels, added details to trays, wreaths just to name a few. Sliced wooden beads are the ones I didn't work with yet so I decided to get them to see what I can do with it. My first thought was to make a wreath. Shabby Chic sliced wooden beads embroidery hoop wreath DIY sound so good!
Supplies needed to make a 12 " embroidery hoop wreath
---
---
Let's go to work!
Directions are pretty easy as most of my projects… Install your sliced wooden beads to a hoop perimeter with a help of hot glue of course. Make sure not to use tooo much of it so it doesn't show on the sides
---
---
Don't forget to have a coffee and examine your work…ha ha ha .I am loving what I see already. As you can notice I couldn't wait to see how my floral embellishments will work with my wooden beads wreath. All will be good but my choice of floral hoop is asking for more detail. So it is time to add some more
---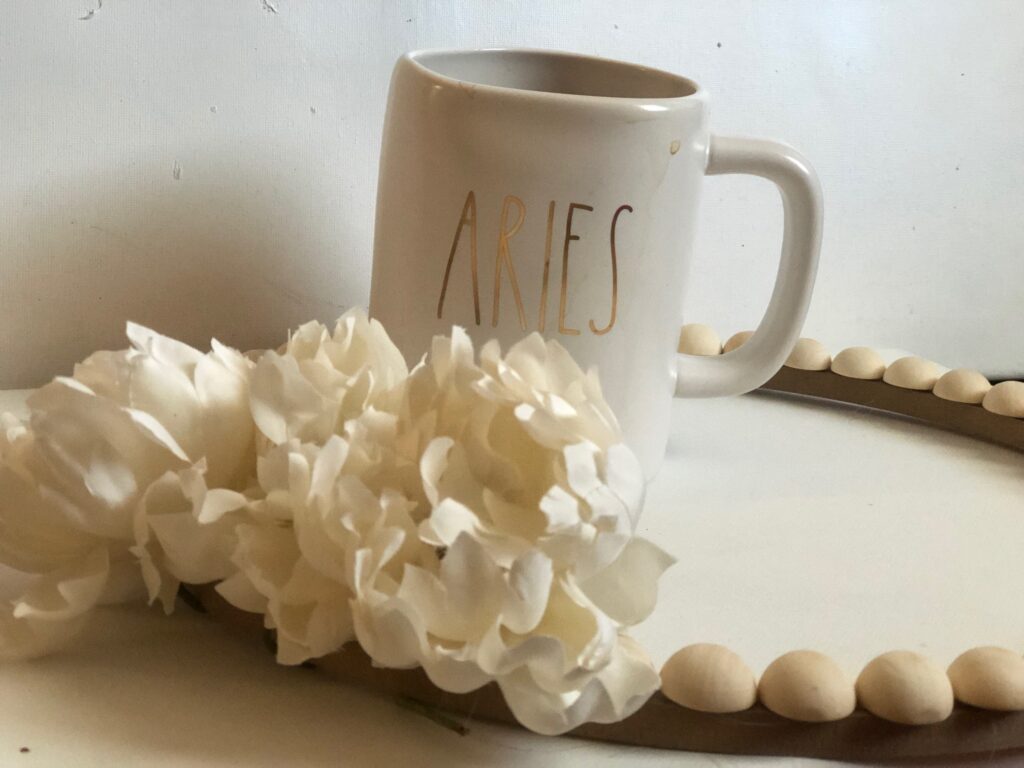 ---
I decided to cover outer edge with some jute. Just because the one I had on hand was on the thinner side braiding it will be the way to go
---
Additional details …
---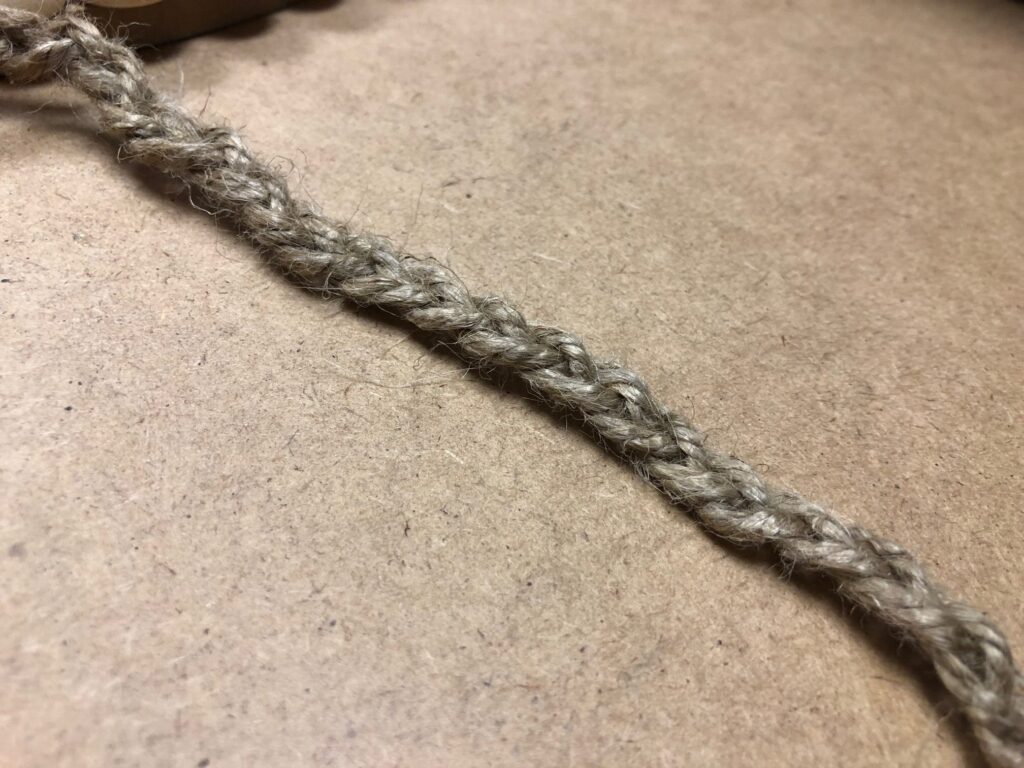 ---
Hot glue is really helpful in this step. I don't know what i would do without one My braided jute couldn't look any better! So happy how it all turns out.
---
---
on the inside of my hoop i decided only add 2 rows of jute glued together because I didn't want to take away from the rest but it is up to you how you will go around it if I inspired you to make one
---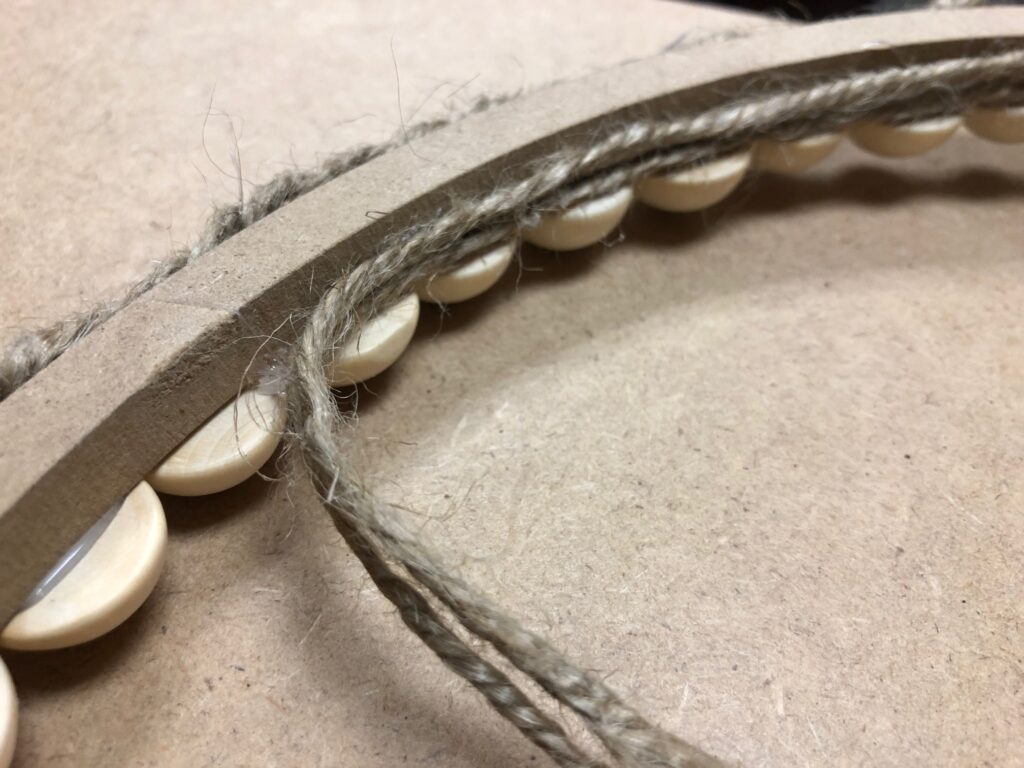 ---
After another sip of coffee I decided to add another hoop but this time much smaller around 8″ worked for me to the center of my sliced wooden beads wreath. The only one I have around was the one with mechanism that ties embroidery hoops together. It is not a big deal because that metal is so easy to bend. I really liked to have close install.
---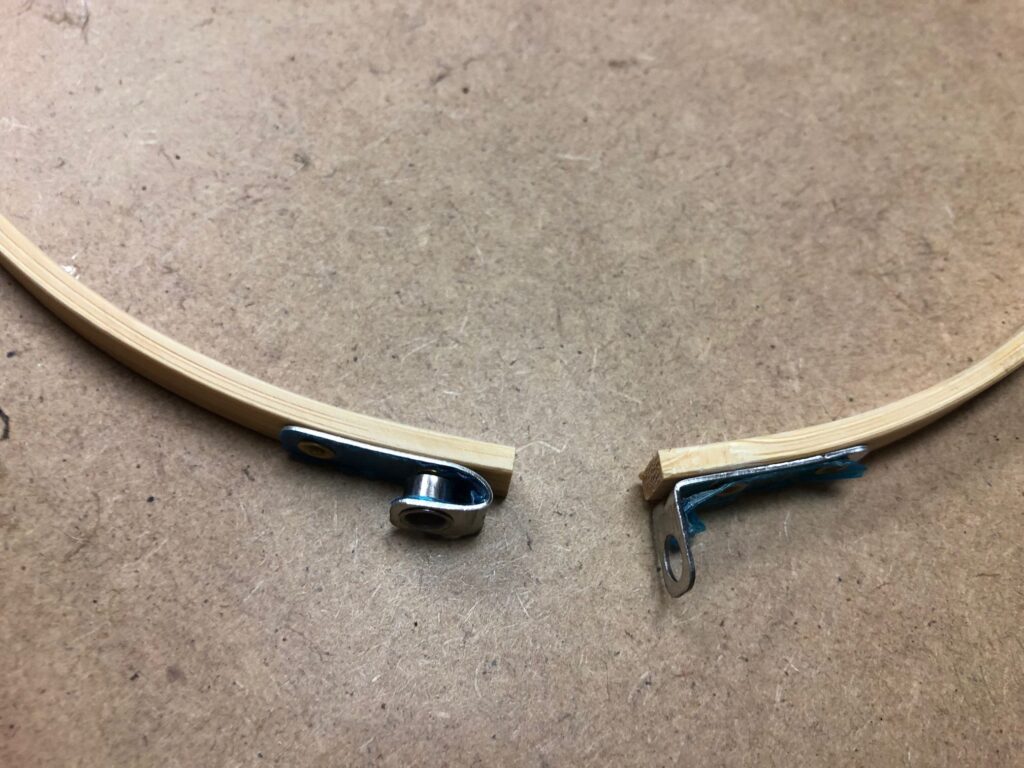 ---
I was debating in my head for a while if smaller embroidery hoop needs to be covered with sliced wooden beads… Made for now decision against it. I can always add it later.
---
Time for some even more embellishments …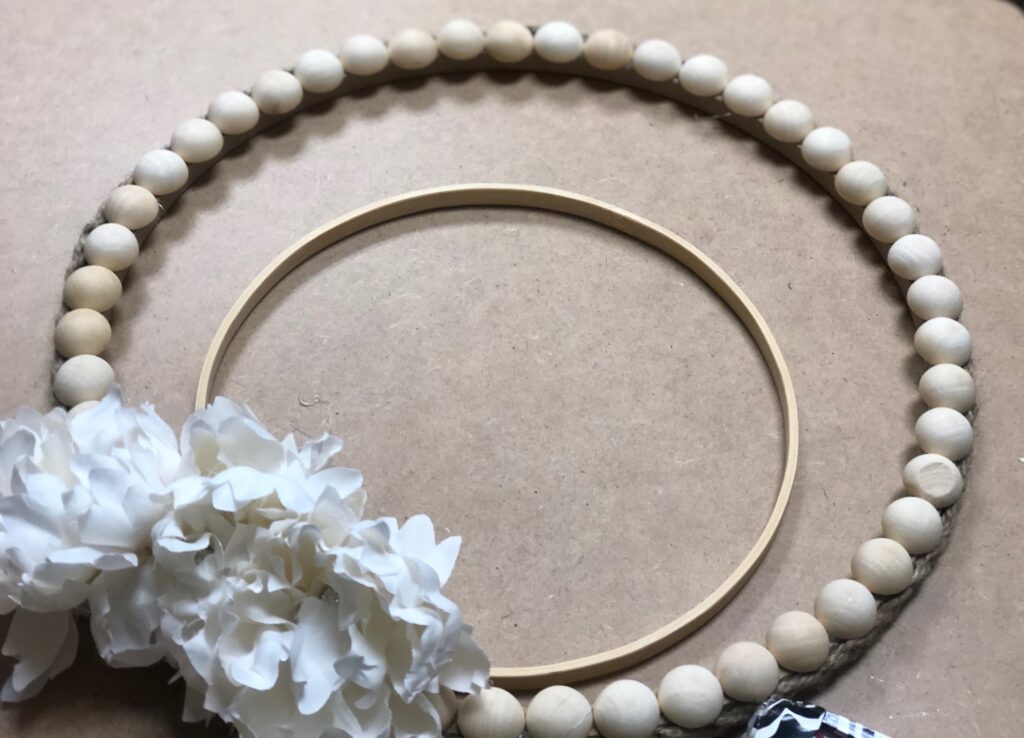 ---
I really like the way my wreath look now but those green picks were calling me so I decided to use them.
---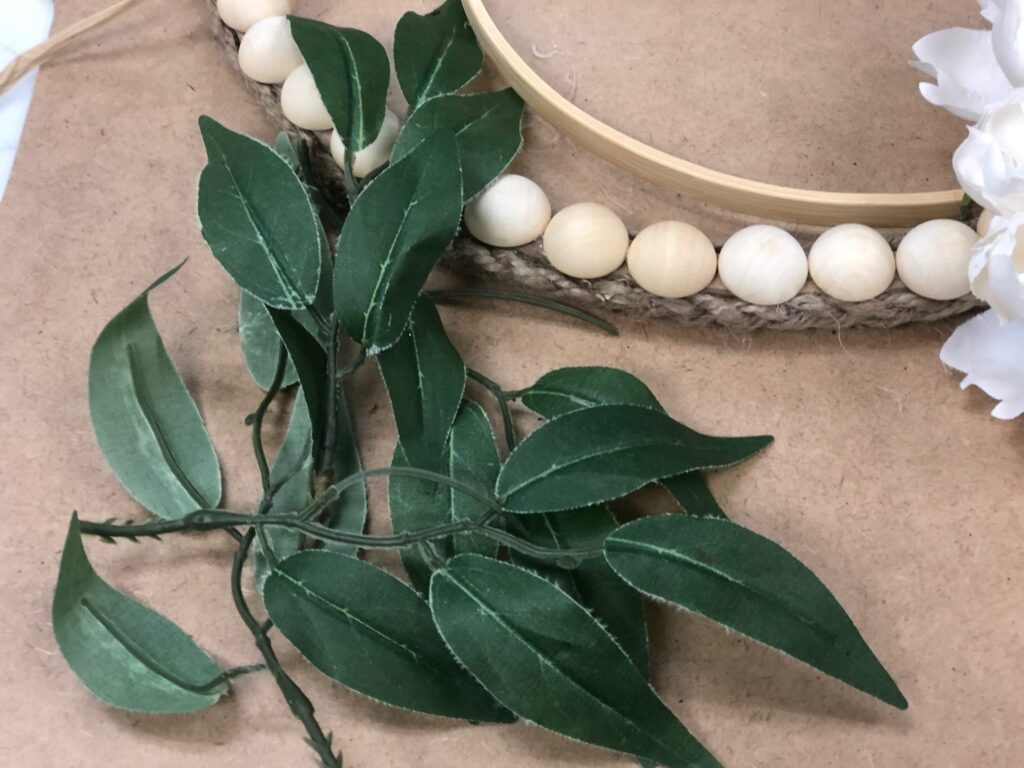 ---
and I couldn't be more happy with it. Didn't really glue them to my flowers because i like to change that wreath with the seasons. I am still deciding about ribbon but that will come hopefully soon. For now I just added a string of raffia to bring a bit of romantic feel to my wreath.
---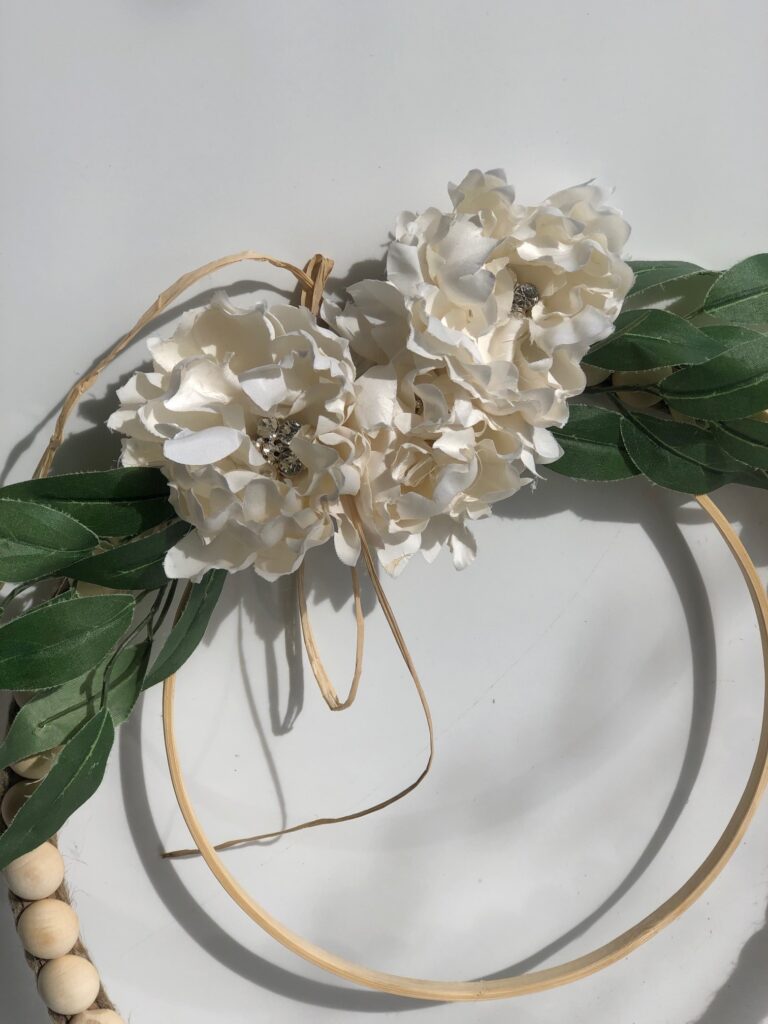 ---
Embroidery hoop Shabby Chic sliced wooden beads wreath DIY
---
---
---
I really can't decide how I like my wooden beads wreath to be positioned … Embellishments on the side , top or bottom . How will you go about it ? Can't wait to hear from you.
---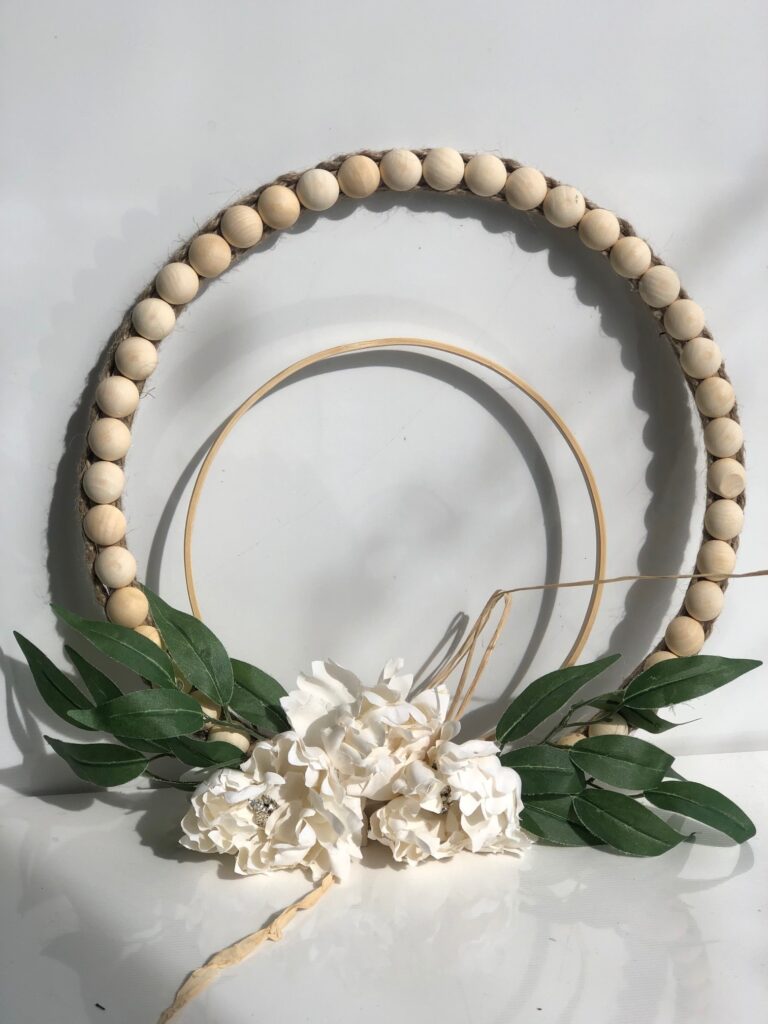 ---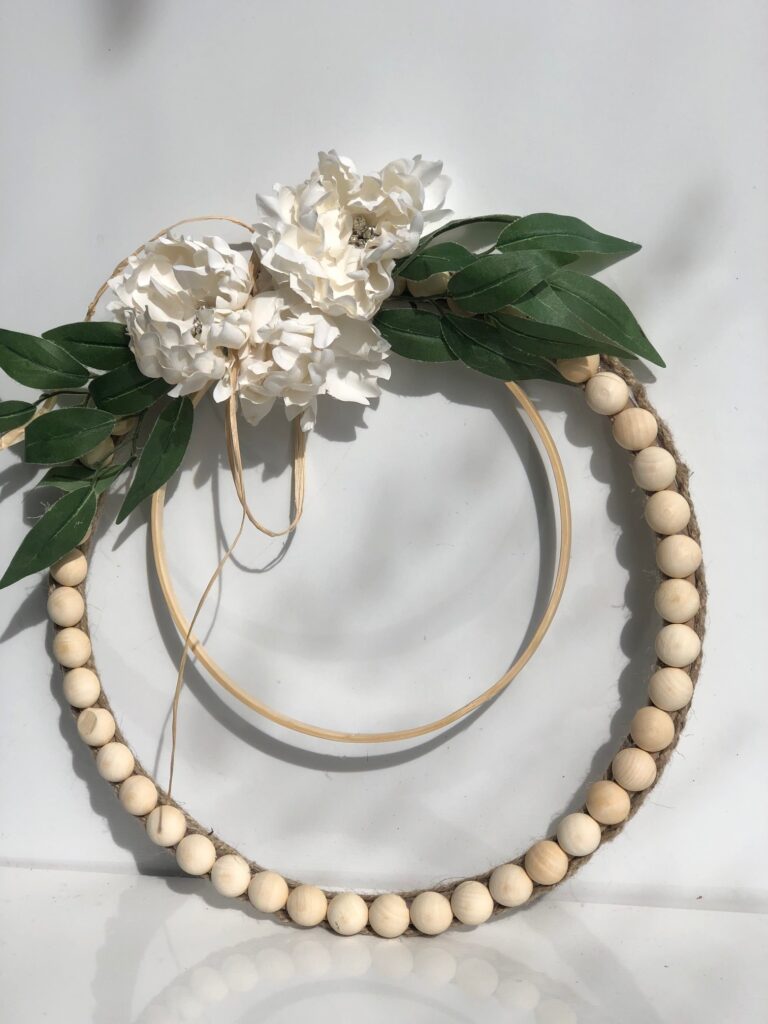 ---
---
Please Save This To Pinterest or Share on Social Media
Friends, your shares are how this site grows and I am sincerely grateful. A quick share to Facebook or save to Pinterest allows me to bring more home decor projects and crafts to more home decor DIY lovers
---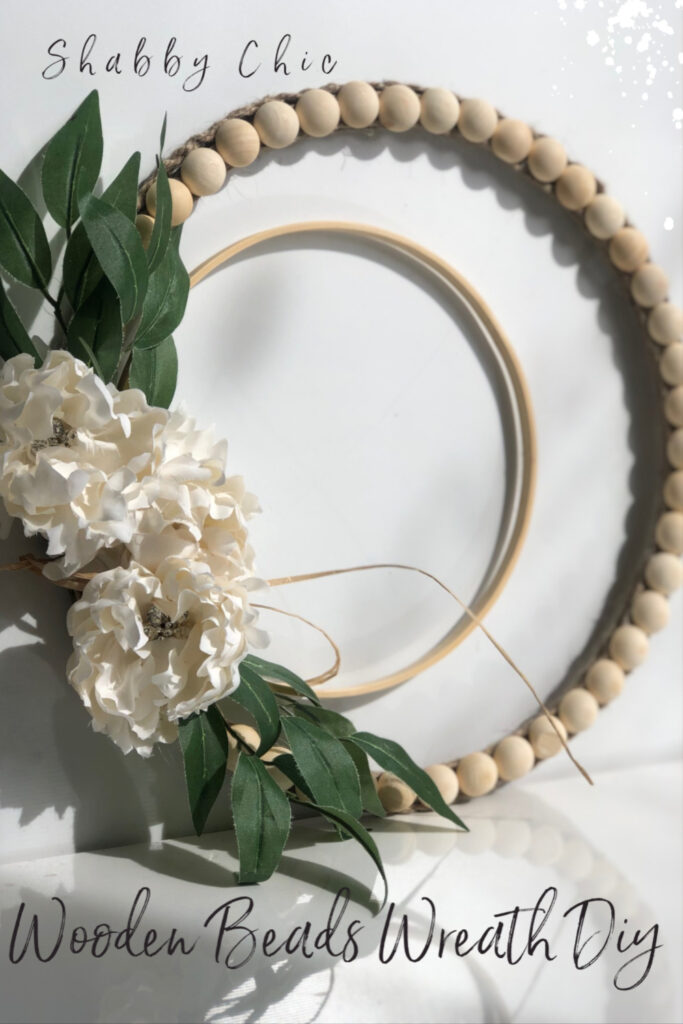 ---
Check our videos for flower making ideas on Facebook. CLICK HERE TO GO THERE As you are there make sure to FOLLOW
---
SOME FLOWER IDEAS FOR YOU TO MAKE TO DECORATE YOUR WREATH WITH
---
---
---
Here are some other ideas for embroidery hoop wreaths on my blog
---