Lunch Bag Teal Pumpkin- Thrifty DIY
Couple of days ago I was asked to be a part of a Teal Pumpkin Project with other fellow bloggers. TEAL PUMPKIN PROJECT is designed to promote safety, inclusion and respect of individuals managing food allergies. The Teal Pumpkin Project was born out of the need to keep 6 million children with food allergies safe on Halloween. Living with food allergies is a constant struggle. Offering non-food goodies is the safest way for food allergy suffers to enjoy the holiday. Displaying a teal pumpkin lets everyone know that you have non-food goodies for children with food allergies. Let's make Teal the new orange this Halloween. #tealpumpkinproject
---
Make sure to check Teal Pumpkin Project F&Q at the end of this post!
---
---
As everything with my DIY projects … almost nothing is planned. If you follow me on the Facebook or Instagram you would know a little story behind that wrinkled pumpkin. It was my first attempt to make a Dollar Tree pumpkin to look like it is made from glass…lol As you can see it didn't work …pumpkin melted…ha ha ha, because it is a styrofoam. I am not done with this idea yet! It will for sure happen soon! Since I am more of a neutral colors girl, Teal is not easy color to find around my house. I needed to get creative! I think paint will be my solution! That I have for sure!
---
Painting pumpkin would be too easy for me,plus those wrinkles don't look too good! I decided to use few paper bags that are no longer needed in my house. You could also use brown paper bag that you pack your groceries into. It is so exciting because my project will be again made out of recycled material! Directions are super easy! Cut your bag into strips or rip as I did and twist them
---
Heat up your hot glue gun and start adhering the paper bag twists to the pumpkin, wrapping them tightly to cover.
---
Add a stick from the yard and you are almost done
---
I didn't want to cover my pumpkin completely with teal, so I only brushed lightly couple coats of teal paint and attached Ruffia.
---
---
Just because pumpkin is so small and the whole project was too quick I wanted to make one more because I loved that process. Love the texture on it!
---
---
All what I did with bigger one was
remove stem
paint teal to cover orange
---
---
---
Little Teal bow beautifully complements this pumpkin! What do you think?
---
---
And here is my pair ! Love how they turned out!
---
---
And my tray with NON-FOOD TREATS is ready for TEAL PUMPKIN PROJECT! #tealpumpkinproject
---
---
---
---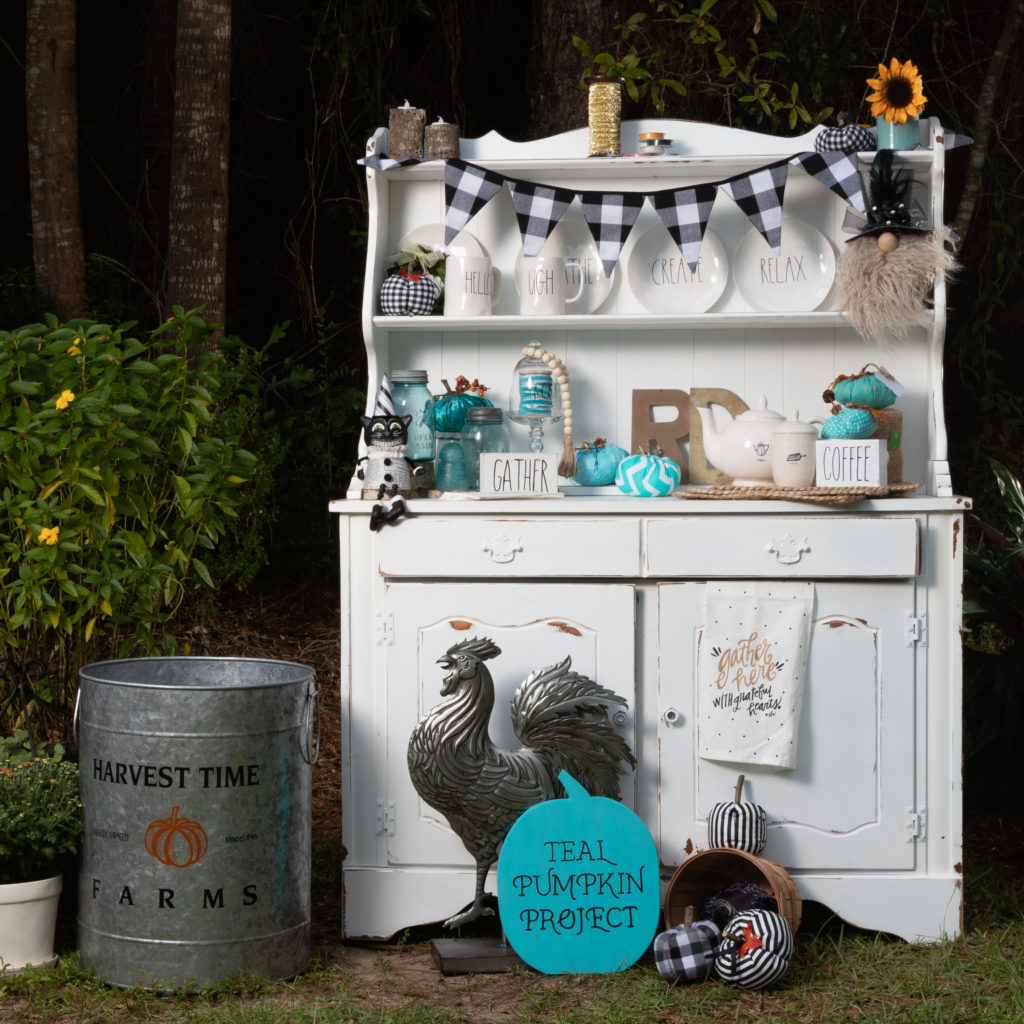 ---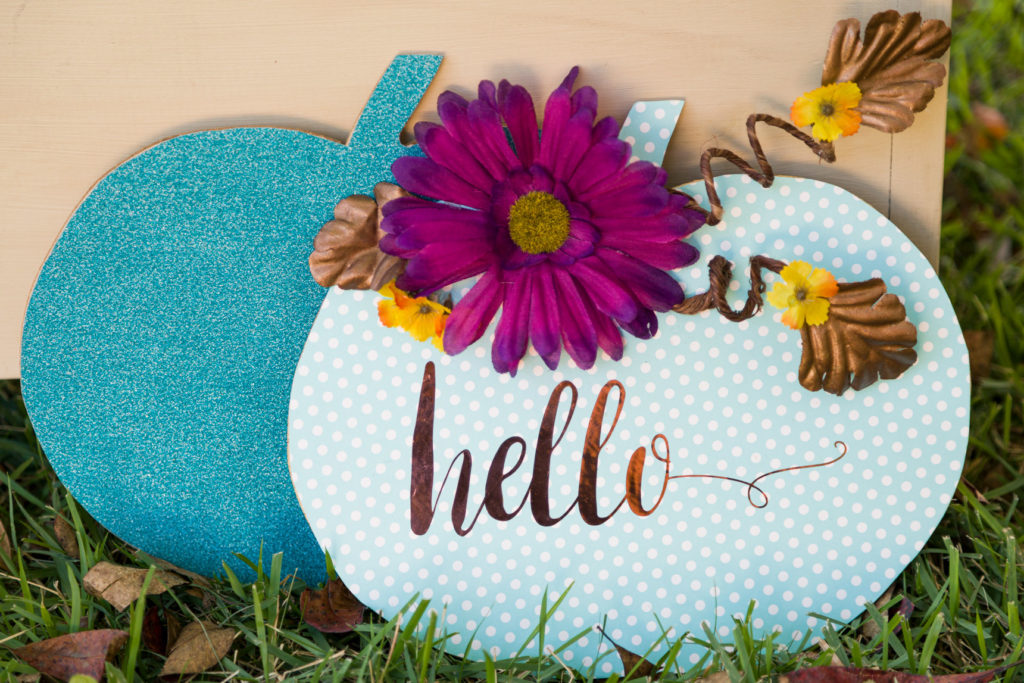 ---
---
---
Teal Pumpkin Project F&Q
https://www.foodallergy.org/education-awareness/teal-pumpkin-project What is the Teal Pumpkin Project?
The Teal Pumpkin Project encourages people to raise awareness of food allergies and promotes inclusion of all trick-or-treaters throughout the Halloween season. The nationwide movement offers an alternative for kids with food allergies, as well as other children for whom candy is not an option.
How Do I Participate?
1. Provide non-food treats for trick-or-treaters.
2. Place a teal pumpkin – the color of food allergy awareness –in front of your home to indicate you have non-food treats available.
3. Add your home to the Teal Pumpkin Project map.
4. Spread the word! Share the Teal Pumpkin Project with your friends and family.
I don't have time to paint a pumpkin teal, what do I do?
Simple – you can print out a free sign from the FARE website to post on your door. You can also look for teal pumpkins to purchase online and at local retail shops.
Can I still pass out candy?
Sure – just do it safely! The point of the Teal Pumpkin Project is to make trick-or-treating as inclusive as possible. You can keep the experience safe by keeping your food treats and non-food treats in separate bowls.
---
If you plan to participate in The Teal Pumpkin Project, by all means put those babies outside for decoration! But if not, try to limit them to your inside decor.
---
Check out some of my favorite Teal Pumpkin Project items courtesy of Amazon Prime. Don't have an Amazon Prime Account yet? Not worries! Click the Link Below for a Free 30 Day Trial
---
Check our other fall decor ideas
---