How to make Orb Light for your Patio – DIY
Have you ever had one of those projects that you've dreamed of for years, but just never been able to cross off the list? Well, today I am so excited to be able to cross this orb hanging light off my large patio decor to do list! Solar Orb light diy is what I need for my patio. I am going to use Embroidery Hoops to make my orbs!
---
---
Supplies needed to make hoop orb light
Embroidery hoops – 2 or 3 same size hoops depending how full your like your orbit
Paint –
Solar lights purchased least expensive on Amazon
Steel wire 24 gauge is plenty
Metal Chain that you can pick at the Hardware Store too by the foot
Hot glue gun with glue sticks
So let's begin! Let's make Patio solar light
First step is to paint! I have a lot of painting to do. Embroidery hoops and Chain are the ones that need my attention for sure to match my outdoors decor. I was only able to find a chain in gold. I got it because it was on sale for under $3. Spray painting will make it all go faster.
---
---
Important Note before you start … Don't forget to disassemble the embroidery hoops before painting so all is nicely covered with paint. Orb light diy
---
While all is drying, let's assemble our solar lights so they will be ready. Open up top portion of the light and place your wire. Bottom portion will nicely secure that. Turn the light over, take the ends and make them meet in the middle and twist a couple times. It is easy right?
---
---
Time to assemble hoops for our Orb Solar Light diy
Our paint is dry now and it is a time to assemble our orb light together!
Place the two inner hoops into one another so they look like this. tic tic car rond ounound
---
---
Unscrew outter shell of the embroidery hoop, catch the chain with it and secure that together.
---
---
Insert inner embroidery hoops into outter hoop and tight all up with the screw that comes in the hoop set. Sounds a bit confusing but I am positive pictures are helping a lot with that.
---
Can you already see hoop orb?
---
Ta-daa!!! Embroidery Hoop orb is done. Love the way it turned out! Perfect Farmhouse Accent for my patio. What do you think?
---
---
What do you think? I loooooove it!!! Now I am on a mission to do all 12 lights!! Should I?
---
---
I have noticed that they are looking pretty good on my trees that are surrounding my patio. I am so excited to decorate with them.
---
---
hoop orb… perfect patio solar light
---
My BBQ area right under pergolas are so festive now. Love that Rustic Farmhouse touch outside on my patio. Patio light diy
---
---
Please Save This To Pinterest or Share on Social Media
Friends, your shares are how this site grows and I am sincerely grateful. A quick share to Facebook or save to Pinterest allows me to bring more home decor projects and crafts to more home decor DIY lovers.
---
---
---
as you are working on your patio you may like to cook some food too
---
Check out out our other DIY PROJECTS here
---
---
---
Follow us and Subscribe so you can stay in the loop
---
Check out other Ideas & Inspirations for your Garden in our Tour below
---
Kippi at Home brings you Step By Step Hanging Baskets! Make sure to check out this tutorial to find out how to make the perfect hanging addition to your garden area! just a few simple steps to having your backyard perfectly finished with some gorgeous hanging pots.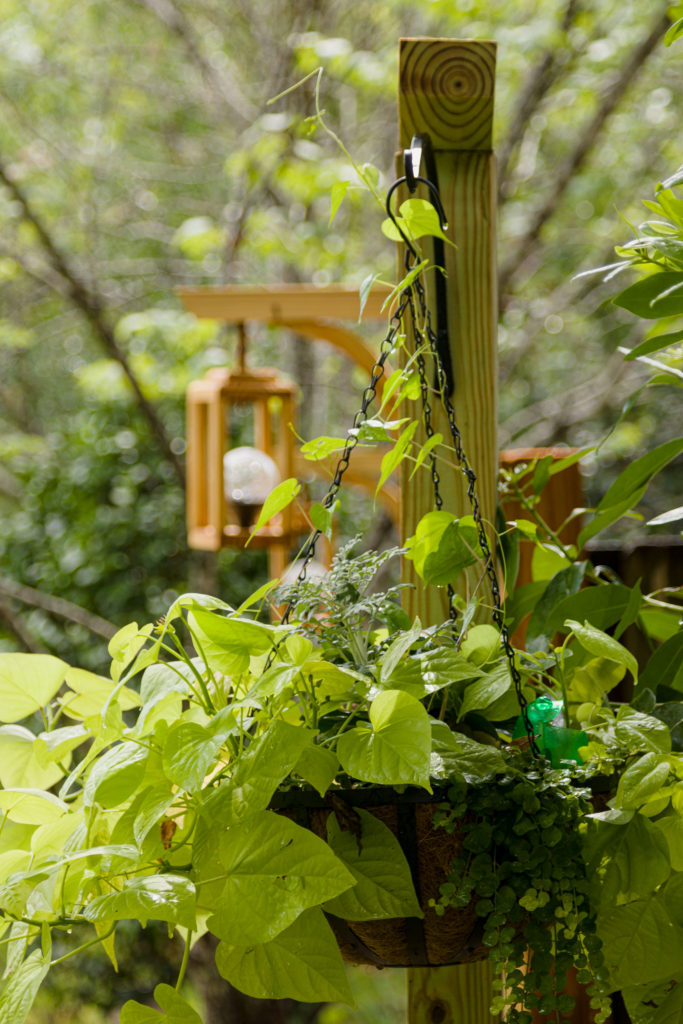 ---
Simple Living with Schneider Peeps has an amazing tutorial on how to make your very own irrigation system! How cool is this?!? I never would have thought I could make a water irrigation system and am in absolute awe of this very clever system to help you get deep watering into your garden.
---
---
Kerri from Mama Dares To DIY has an amazing tutorial on how to make your own rocks you can find her tour and tutorial here. Have you ever struggled to find the perfect rocks to add to your flower garden? Then this tutorial is going to save you from searching and spending a fortune on purchasing large rocks. I love this tutorial so much I shared it in our curb appeal post!
---
Next up we have 14 ways to use coffee grounds in your garden from Art & Home! I'm a coffee addict and after reading this post I'm in awe of all the things I have been missing out on with my coffee grounds. I'm inspired to start collecting and making everything much more beautiful. Be sure to check out some amazing things about coffee grounds used in the garden such as it can help repel cats and rabbits!
---
---
---
---